THERE'S A NEW LAIRD IN TOWN
Will he leave with a wife?
Angus MacDonald has just arrived in London to reclaim his land when he rescues Lady Isabella Wood from a cattle stampede! Their instant attraction is undeniable, but Isabella must wed this Season and Angus isn't looking for a bride. His wild Hebridean home is a world away from London Society, so Isabella is completely out-of-bounds. Even if their connection is unlike anything he's felt before.
Purchase Link - https://mybook.to/LairdLondon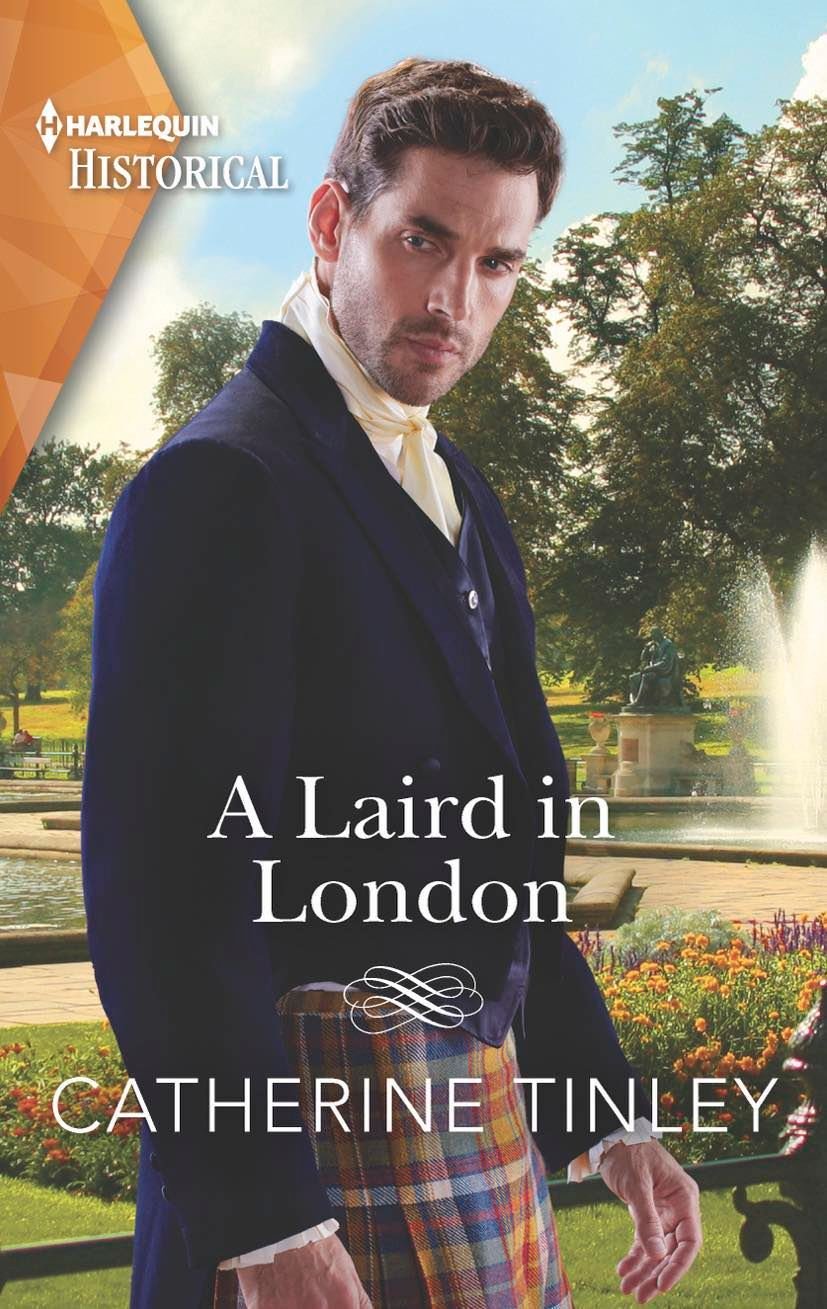 MY REVIEW
A Laird in London by Catherine Tinley is a captivating historical romance about a Scot and a Brit who can't be together. Angus MacDonald, the Laird of Broch Clachan, and Isabella Wood have an undeniable instant connection when they first meet. Despite their differences in upbringing, they find themselves drawn to each other.
The story is full of romantic tension, as the two try to navigate the world around them and their growing feelings for each other. There are several obstacles in their way--from Angus' desire to purchase the property next to his and track down the Lord who owns it to Isabella's need to marry someone suitable.
Catherine Tinley does an amazing job of creating a vivid and realistic setting for her characters. The descriptions of London during the Regency period are rich and detailed, making it easy to imagine walking the streets with Angus and Isabella. I especially loved reading about their interactions at the society parties--everyone can relate to wanting to be seen and accepted yet also not wanting to be there at all.
Overall, A Laird in London is a great read. It's full of wonderful characters, delightful humour, and a happily-ever-after ending that will leave you with a smile on your face. If you're looking for an adventurous historical romance novel to fall into, this is definitely the one for you. Highly recommended!
ABOUT CATHERINE TINLEY
Catherine Tinley is a multi-award winning author of witty, heartwarming historical romance. Her first novel, Waltzing with the Earl, won the Rita® Award for Best Historical Romance in 2018, while Rags-to-Riches Wife won the RoNA Award for Best Historical Romance 2021 as well as the HOLT Medallion, and A Waltz with the Outspoken Governess won the RoNA Award for Best Historical Romance 2022.
She has loved reading and writing since childhood, and has a particular fondness for love, romance, and happy endings. After a career encompassing speech & language therapy, Sure Start, maternity campaigning and being President of a charity, she now manages a maternity hospital. She lives in Ireland with her husband, children, cats, and dog and can be reached at catherinetinley.com, on facebook, twitter, and instagram. Full links are here.
Social Media Links – https://linktr.ee/CTinley
*Terms and Conditions –Worldwide entries welcome.  Please enter using the Rafflecopter box above.  The winner will be selected at random via Rafflecopter from all valid entries and will be notified by Twitter and/or email. If no response is received within 7 days then Rachel's Random Resources reserves the right to select an alternative winner. Open to all entrants aged 18 or over.  Any personal data given as part of the competition entry is used for this purpose only and will not be shared with third parties, with the exception of the winners' information. This will passed to the giveaway organiser and used only for fulfilment of the prize, after which time Rachel's Random Resources will delete the data.  I am not responsible for dispatch or delivery of the prize.